About the Orchestra
Vermont Fiddle Orchestra is a community orchestra open to all levels and ages of players.  No audition is required.  35 to 40 orchestra members meet regularly to rehearse and prepare programs.  Our members span several generations and range in experience from beginning level players to professional soloists.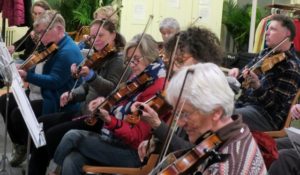 The orchestra is centered in Montpelier where most rehearsals and some performances occur.  Our members come from a variety of musical backgrounds from around the state.  Some of us play by ear in the traditional style, and some learn better from written arrangements.  Our mission is to provide entertainment and education while preserving the traditional fiddling of Vermont and beyond.
Our Winter 2018 Concert brought back our founder, Sarah Hotchkiss and the orchestra's original assistant director and arranger, John Mowad who joined us to celebrate the VFO's 15th anniversary.
---
Music Director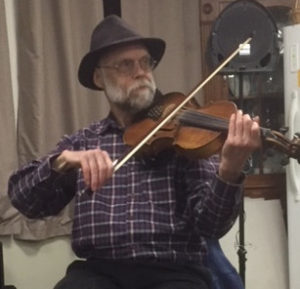 David Kaynor began playing fiddle in 1974, and started calling local contra dances in Western Massachusetts around 1980. Over the last two decades, he has become increasingly involved as both fiddler and caller in the New England and national contra dance scenes. He has been on staff at Northern Week at Ashokan too many times to count!  He has also taught at Contra Dance Musicians' Week at the John C. Campbell Folk School and Northeast Heritage Music Camp in Vermont many times. He has also played for and taught dancing at Pinewoods, Buffalo Gap, Mendocino, the Lady of the Lake, Ogontz, Summer Acoustic Music Week, Suttle Lake, Wannadance Uptown, at the Summit School in Montpelier, and a myriad of other camps, workshops and music events around the country.
David has been to Sweden several times and has played with many Swedish Fiddlers and folk musicians in Sweden and in the United States over the years. He knows countless numbers of tunes and thankfully shares his knowledge with others through workshops and jam sessions and performances. As he states in the description on his website, www.davidkaynor.com, about his experience in Sweden, "rather than spend money I didn't have on costly classes with big-name musicians, I found myself falling in love with the music of the local musicians' groups and getting most of my repertoire, stylistic influence, and overall inspiration from them in their own surroundings."
---
Board of Directors
Our board of directors is made up primarily of our members.  We are:
Molly Backup, President
Nora Skolnick, Vice President
Laura Weickert, Secretary
Lexi Shear, Treasurer
Joanne Puente, Orchestra manager
Dean Bloch
Richard Raubertas
Oren Kronick

---
History
The Vermont Fiddle Orchestra was founded in 2003 by Sarah Hotchkiss.  And has been going strong ever since.  In 2013, the orchestra celebrated its 10th anniversary with a special anniversary concert which featured many of our previous guest soloists.  David Kaynor took over as director in September 2013.  Over the years we have had the great pleasure to work with a variety of guest soloists including George Wilson, Randy Miller, Pascal Gemme,  Gretchen Koehler and Peter Macfarlane.