Upcoming Performances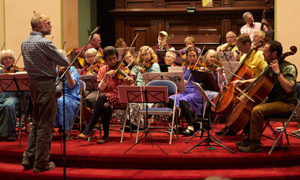 OUR SPRING CONCERT will be Saturday,  April 13 at the Barre Opera House. More details will be posted here soon, but MARK YOUR CALENDAR NOW.
Our recent Winter Concert brought back our founder, Sarah Hotchkiss and the orchestra's original assistant director and arranger, John Mowad who joined us to celebrate the VFO's 15th anniversary.
The Orchestra would like to thank the Vermont Mutual Insurance Group and Northfield Savings Bank for their generous grants which are making it possible for admission to the winter concert to be by donation.