Our 20th Anniversary Winter Concert is scheduled for Saturday, Dec. 2 at the Barre Opera House. Save the date!
More news and details will be posted here as plans progress.  Weekly rehearsals start on Wednesday, Sept. 13th at the Capital City Grange in Montpelier. Join the orchestra!  All ages and skill levels are welcome, no audition required.  Details.
---
RECENT CONCERTS
The Spring 2023 VFO Concert Featured Guest Fiddler Katie Trautz.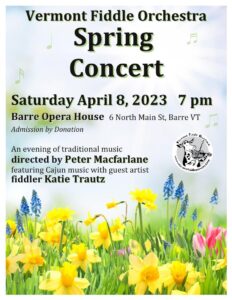 The Vermont Fiddle Orchestra presented its Spring Concert at the Barre Opera House on Saturday, April 8. The concert featured guest artist fiddler Katie Trautz of Montpelier who brought swinging Cajun music from Louisiana to the orchestra's program, complimenting its more usual traditional jigs, reels, waltzes and old-time tunes from Ireland, Sweden, Quebec, France's Breton region, the Shetland Islands, Appalachia and Vermont.  Artistic Director Peter Macfarlane contributed a composition of his own, as well as two tunes by well-loved musician Pete Sutherland, who passed away in November.
A full-length recording of the concert is available here.
…
THE FALL 2022 CONCERT
The Vermont Fiddle Orchestra presented its Fall Concert on Saturday, December 10 at the Barre Opera House, directed by Peter Macfarlane.
A full length audio of the concert is available here.
…
See the Winter 2021 concert here. Select Full Screen mode at bottom-right of the YouTube screen for the best experience.:
…
During the two seasons when Covid restrictions prevented us from rehearsing and performing in person we continued learning tunes together via Zoom., One tune from each season was recorded  with individual members contributing remotely and assembled electronically into a complete performance by Peter Macfarlane.   Hear them now:
OUR GUIDING STAR, a beautiful air composed by Robin Russell and Cynthia Thomas as a tribute to David Kaynor.
and LAMENT FOR THE DEATH OF REVEREND ARCHIE BEATON, from Scotland, an air composed by John Mason in honor of the minister of Dundonald Parish Church, Ayrshire. A champion of Gaelic culture.
For links to all the tunes taught in both sessions, click here.
…
The Vermont Fiddle Orchestra is…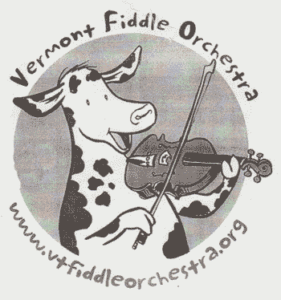 a community orchestra based in central Vermont, playing traditional and new fiddle and dance tunes from Scandinavia, the British Isles, Maritime Canada, Quebec, New England, Appalachia and beyond.  Open to musicians of all skill levels and most instruments, we play for the joy of this rich and diverse repertoire. 
Still remembering our beloved former Music Director, David Kaynor, Molly Backup, vice president of the VFO board sent this:
David passed peacefully and comfortably surrounded by family and music June 1 [2021]. He had been in the hospital for 2 weeks and had become too weak to communicate well. He was able to make the decision that it was time.
A group of us happened to play music on Donna's porch on Tuesday and made this video for David of his Montague Processional. Such a beautiful tune, written by a cherished friend, cared for by a loving community.
David is much missed. We will honor and remember him by playing music together and continuing  the community he has nurtured.
Vermont Fiddle Orchestra Celebrates David Kaynor. Our long-serving Music Director was forced by health concerns to resign after the 2019 season.  We produced this video celebration in his honor:
…
Normally we have 2 sessions a year: September – December  and January – April.  In each session we have approximately 12 weekly rehearsals followed by a public performance.  In the summer we often play smaller gigs at farmer's markets, fairs, and the like. Stay tuned to this website for news of our plans.
If you have any questions, please send an email to info@vermontfiddleorchestra.org or call Joanne (VFO Manager) at 802-229-4191.
Thanks! to the following organizations for generous grants:

Vermont Mutual Insurance Group
City of Montpelier Community Fund Grant
Northfield Savings Bank