The Vermont Fiddle Orchestra is…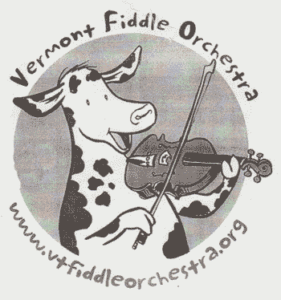 a community orchestra based in central Vermont, playing traditional and new fiddle and dance tunes from Scandinavia, the British Isles, Maritime Canada, Quebec, New England, Appalachia and beyond.  Open to musicians of all skill levels and most instruments, we play for the joy of this rich and diverse repertoire. 
In normal times the VFO plays two formal concerts each year in early winter and early spring but due to Covid-19 the spring 2020 concert had to be cancelled.
However, the Fall and future session continue online in the Zoom format Wednesday nights for 10 weeks each, from 7 to 9 PM. You can connect by video or call into the rehearsals via phone (audio only). A new link will be sent out for each rehearsal.
ANNOUNCEMENT: We have recorded a full-length performance by the VFO, with individual musicians contributing remotely during the Covid 19 pandemic, assembled into an ensemble recording by Music Director Peter Macfarlane.  Our Guiding Star, a beautiful air, was composed by Robin Russell and Cynthia Thomas as a tribute to the orchestra's former long-time Music Director, David Kaynor. Listen now (about five minutes). 
For the Fall, 2020 session, Peter Macfarlane had been teaching our weekly rehearsals, with new tunes in the first hour, followed in the second hour by a review of previous weeks' tunes.  Opening each rehearsal, Susan Reid, VFO Assistant Director, has been teaching an additional by-ear tune each week.  For links to both Peter's and Susan's tunes, click here.
Tuition for each season's session (total for the entire session) is $50. Payment can be made by check (payable to the Vermont Fiddle Orchestra). Please send it to
Vermont Fiddle Orchestra
P.O. Box 806
Montpelier VT 05601.
If you can pay more, it will be greatly appreciated and you will receive a donation letter for your taxes. If the fee is a hardship, please contact Nora, VFO President, at   nora.landn@gmail.com   to discuss your situation.  No one is ever turned away because they cannot afford the tuition.
When registered, you will receive the music and Zoom link for each weekly rehearsal.  The zoom links will be free for the first two rehearsals.  Only folks who have paid their tuition by by then will continue to receive the weekly links to join the rehearsals.
If you have any questions, please send an email to info@vermontfiddleorchestra.org or call Joanne (VFO Manager) at 802-229-4191.
When the pandemic subsides sufficiently we will resume in-person rehearsals and public performances.
Here is a sample of some of the orchestra's repertoire from a recent concert: