About the Orchestra
Vermont Fiddle Orchestra is a community orchestra open to all levels and ages of players.  No audition is required.  40 to 50 orchestra members meet regularly to rehearse and prepare programs.  Our members span several generations and range in experience from beginning level players to professional soloists.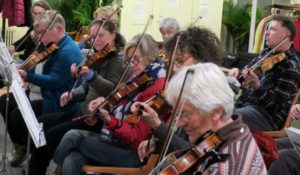 The orchestra is centered in Montpelier, Vermont where most rehearsals and some performances occur.  Our members come from a variety of musical backgrounds from around the state.  Some of us play by ear in the traditional style, and some learn better from written arrangements.  Our mission is to provide entertainment and education while preserving the traditional fiddling of Vermont and beyond.
Our Winter 2018 Concert brought back our founder, Sarah Hotchkiss and the orchestra's original assistant director and arranger, John Mowad who joined us to celebrate the VFO's 15th anniversary.
---
Music Director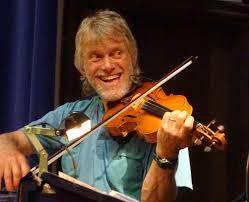 The VFO's Music Director is Peter Macfarlane. Peter came late to traditional music, but has been making up for lost time ever since. Not until university did he discover Scottish dance and, with it, the music which has infected him without remission. Already a passable violinist, he was soon picking out familiar tunes by ear, all from dance music, live or recorded. He had found the music that spoke to him, the music that made him want to play.
A few years later Peter was drafted into the Aylesbury Fiddle Rally, a large annual concert of Scottish traditional music, one that he was later to organize and lead throughout the 1990s. Through this involvement he was invited in 1988 to be a substitute fiddler in McBain's Scottish dance band, and this led to an ever increasing frequency of playing, and, alas, a decreased frequency of dancing.
For the next fifteen years he played as an itinerant fiddler with many of the Scottish dance bands in southern England, culminating with over five years in a duo with pianist Lilian Linden. This allowed him to exercise more choice over the music he played, and left him no option but to develop into a strong lead fiddler, no longer sheltering behind the ubiquitous accordions. In 2003 Peter and Lilian released a recording of many of their original compositions, arranged largely for Scottish dance: Peter Macfarlane (Fiddle) & Lilian Linden (Piano). More recently Peter recorded Home Fires, a solo CD of several of his self-penned waltzes. He has also published two volumes of his own compositions, North Country, with a third on the way.
From 1988 Peter performed not only in England but also in France, Germany, Poland, Belgium and Switzerland, and taught workshops on Scottish fiddle and dance music, including the UK's Hands-onMusic series and at Pinewoods Camp in Massachusetts. His first visit to Pinewoods in 1994 was the start of a regular commute across the Atlantic whenever his job as a high school science teacher allowed. This culminated in his immigration to Vermont in 2003 to marry and become a more-or-less full time musician. He teaches fiddle, both private lessons and group workshops, and plays full time with the bands Atlantic Crossing, with whom he has recorded six albums, and, more recently, Frost and Fire, who have produced one CD. He also plays in other combinations for several of the Scottish dance groups in the northeast. He has taught fiddle-based workshops for the Flurry Festival, Northern New Jersey Folk Project, NEFFA, Pinewoods, Footfall and Trillium Twirl dance weekends, New Hampshire Highlands, and more.
In 2010 he co-founded the Champlain Valley Scottish Fiddle Club, and has been leading monthly gatherings since then, sharing the delights of the great tradition of Scottish fiddling, always exhorting players to do more than just play the notes. Although not the most flashy of players himself, he delights in finding a tune's nuances, determining how to achieve them on the fiddle, and sharing these techniques so that all may enjoy playing the tunes with feelings and style that are strongly rooted in the tradition. This is the ethos which he brings to his fiddle lessons, to his workshops and to any groups that he leads, which, since January 2020, have included the Vermont Fiddle Orchestra.
Having inherited the mantle from previous VFO Musical Director, David Kaynor, Peter had large shoes to fill. For the first few weeks of 2020, his first season at the helm, he was finding his feet until a global pandemic interrupted. For a year or more his leadership was then confined to an online medium. No doubt like all members of the VFO, he looks forward to being able to play together in person once more in the true spirit of a community orchestra.
Whilst primarily a fiddler, Peter also plays low whistle, and more recently, due to a change of personnel in Atlantic Crossing, has been learning mandolin as well as Québecois foot percussion. This has given him the opportunity to experience anew some of the struggles and hurdles of learning new skills, an essential ingredient for empathy with his students.
Outside music, Peter builds cedar-strip canoes, his own designs, and is also an avid paddler. He and his wife, Viveka Fox, often disappear into the Adirondacks for days at a time, paddling and camping in serene surroundings. Peter has also paddled the length of the Northern Forest Canoe Trail, a journey of over 700 miles, in one of his own canoes. Not being averse to a challenge, he has done this not only in the conventional direction but also the other way, which involves significantly more upstream travel.
More information and contact details: https://OtterCreekSmallcraft.com
David Kaynor was the VFO's beloved and long-serving Mu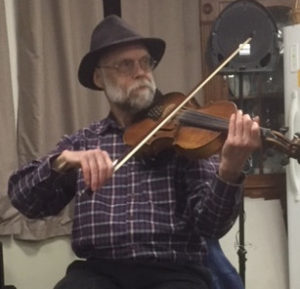 sic Director through the 2019 autumn concert when health issues forced him to retire. We were overjoyed to hear that he was recently honored by the Country Dance and Song Society with its 2021 CDSS Lifetime Contribution Award.  Read about David and the award.
Sadly, David passed away in 2021 but he was still composing tunes even while almost completely paralyzed by ALS.  He kept giving us new tunes using an eye-gaze computer, text-based musical notation, and the help of friends to play passages.  Here are some of his last tunes.
David began playing fiddle in 1974, and started calling local contra dances in Western Massachusetts around 1980. Over the last three decades, he became increasingly involved as both fiddler and caller in the New England and national contra dance scenes. He has been on staff at Northern Week at Ashokan, taught at Contra Dance Musicians' Week at the John C. Campbell Folk School and the Northeast Heritage Music Camp in Vermont many times. He has also played for and taught dancing at Pinewoods, Buffalo Gap, Mendocino, the Lady of the Lake, Ogontz, Summer Acoustic Music Week, Suttle Lake, Wannadance Uptown, the Summit School, and myriad other camps, workshops and music events around the country.
Our board of directors is made up primarily of our members.  We are:
Nora Skolnick, President
Molly Backup, Vice President
Gretta Stone, Secretary
Lexi Shear, Treasurer
Joanne Puente, Orchestra manager
Dean Bloch
Emerson Gale
Page Guertin
Oren Kronick

History
The Vermont Fiddle Orchestra was founded in 2003 by Sarah Hotchkiss.  And has been going strong ever since.  In 2013, the orchestra celebrated its 10th anniversary with a special anniversary concert which featured many of our previous guest soloists.  David Kaynor took over as director in September, 2013 and Peter Macfarlane in January, 2020.  Over the years we have had the great pleasure to work with a variety of guest soloists including George Wilson, Randy Miller, Pascal Gemme,  Gretchen Koehler and Peter Macfarlane.